Robin Stam - Freelance Copywriter
23 years of experience
70+ Awards and nominations
250+ TV commercials


Ah, you're the type of person who likes to read before scrolling to the work below. That's great. We have something in common. As a copywriter, I love to read... and write. Most of the time you'll see me writing TV commercials or online films. Or I could think of an integrated campaign. In my long career, I've been doing this for the best agencies in New York, Stockholm, Brussels, Amsterdam and Hamburg. In 2016, I've started my freelance adventure. No country is too far. No agency is too small. Just take a look at my work and

get in touch

if you want me to think of great ideas for you.
Work
Einmal Sport. Intersport
Intersport

"The client wants something new and courageous". I've heard that a hundred times before but this time they weren't kidding. The result is an epic 9-Minute dystopian film about a society where sports is forbidden. But no matter what the barriers are, sports will always survive. A bold statement in times of political instability.

Agency: Jung von Matt/Sports
Media: Film



Obituary
Re-born to be Alive

I've met the client during an award show in Brussels and he told me how grateful he was for this ad. And how it helped his small organization get the exposure it needed. This meant a lot to me. And it proved that when you have a good idea, print is still effective and very well alive.

Agency: Duval Guillaume Brussels
Media: Print
Awards: 2 gold New York Festival Awards, 1 bronze Clio Awars, 1 Bronze Eurobest, 2 silver CCB Awards, Standard solidarity Award, Newspaper Award, nomination Kinsale Shark Award

Patrick the Extra
Telenet

Sometimes the best actors are not actors. We've chosen a real extra for this commercial and gave him the main role. Best decision ever. In a supporting role is Roel Vanderstukken, a famous actor and singer from Belgium.

Agency: Duval Guillaume Brussels
Media: TV commercial
Awards: Bronze Cannes Lion, nomination Eurobest, nomination CCB Belgium

365 campaign
IKEA

What did we get ourselves into? After winning the most prestigious pitch of the year in the Netherlands, we've made a campaign in which we've broadcasted a new TV commercial every day. Think of it as a never ending shooting while writing new scripts in between.

Agency: LEMZ Amsterdam
Media: Integrated
Awards: Silver Eurobest, silver Epica, Nomination ADCN Netherlands, Nomination Tomorrow Awards
Mutspende
Red Cross Germany
When we sold this idea to the client I told the team: "Honestly guys, I don't think this is going to win awards, but if you have a beautiful campaign like this in your portfolio, it doesn't matter." Mutspende turned out the most award winning campaign I've ever made. And the most beautiful one.
Agency: Jung von Matt
Media: Integrated
Awards: Bronze Cannes Lion, 2 silver Clios, silver and bronze Eurobest, gold and bronze AME award, GWA healthcare award, shortlist ADC Germany
8 Pauli
The creation of a subculture

Is this even advertising? Well, it's more than that: in 2014 I decided to give a stage to electronic music artists who make music with Gameboys, Commodores and other retro gaming consoles. The party concept 8 Pauli was born and it was the start of something really big and my entrance into the nerd-scene in general and the underground electronic music scene in Hamburg.

Media: event organization, event marketing, electronic music, posters, online films, social media.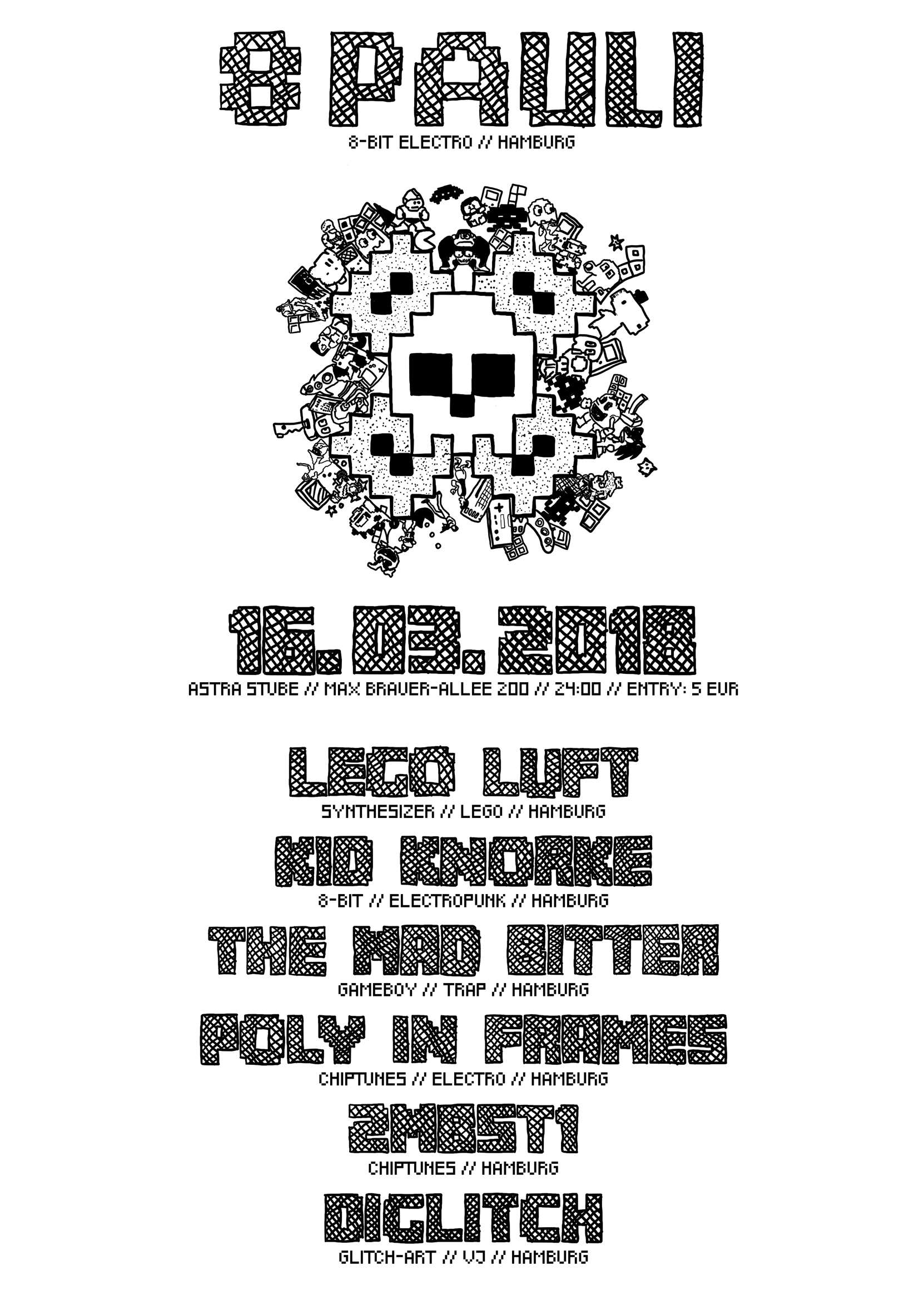 Ass-end of the World
Home24.de

A hilarous commercial that makes people rethink driving all the way to IKEA. With over a million hits on YouTube, this commercial became viral even before it ran on television.

Agency: Jung von Matt
Media: TV commercial
U3 Fiete
Government of Hamburg

How to turn an old subway train into a bicycle? For the city of Hamburg, we decided not only to make a traditional advertising campaign to tell people that cycling in Hamburg is great, we also developed a new product: the U3 Fiete. The result of an excellent teamwork with art-director Sebastian Groebner and a very experienced strategic team at JvM/Sports.

Agency: Jung von Matt/Sports.
Media: Product development, integrated, activation, social media,

Data for Deeds
Vodafone

To communicate that datavolume at Vodafone can be shared, you could make a traditional campaign. Instead, we've created an app that makes people experience this on their own.

Agency: Jung von Matt
Media: Digital, app
Awards: Bronze LIAA Awards
Vodafone Educative WIFI
Vodafone

How can you motivate children in Germany to do their homework? By rewarding them with free WIFI. With this simple idea I got my first D&AD awards.

Agency: Jung von Matt
Media: activation.
Awards: 2 D&AD Pencils, Bronze New York Festivals.
#Rivalhug
Client: FIFA

Can advertising unite even the biggest of rivals during the FIFA World Cup 2018? We proved it's possible. #Rivalhug is the biggest activation campaign that FIFA ever launched. It was the reason why fans all over the world suddenly embraced each other.

Agency: Jung von Matt/Sports
Media: Integrated
Awards: Hasthag Sports Award.






From Pong to Doom
The Mad Bitter/8-Pauli

Creativity is not just limited by your job title. I might be a copywriter but I made the music (under my artist name The Mad Bitter) as well as the animations for this epic music video. From Pong to Doom shows the entire history of classic computergames in a little more than three minutes. All animations were drawn by hand and all music was made on a Nintendo Gameboy.

Media: Animated music video, digital
Awards: More than 10 official selections for international film festivals
Gumshoe OOH

Illustration

PublicisOne Netherlands was working on the Gumshoe campaign, a multiple award winning campaign in which they made a sneaker out of recycled chewing gum. And I had the honour to be part of this. As an illustrator! For their outdoor campaign they used the pink holders to collect chewing gum.

Media: OOH, illustration.
Awards: Bronze Epica Award, 2 nominations Eurobest.
Go South Africa!
Animated short film

Together with director Robbert-Jan Vos and animator Renske Mijnheer, we've made a beautiful animated short film for the 2010 Fifa World Cup in South Africa. I've written the screenplay for the movie and I've also helped cutting out lots of cardboard puppets during the animation process.

Media: Animated short film
Awards: Winner Forster Film Festival, nomination VERS Award, nomination Viral Video Award Berlin, nomination Holland Animated Film Festival.